What Makes Jews Lead in the Wealth Creation Space?

Fredrick Munyao, September 29, 2022
3 min

read
726
Ever wondered why the Jews have made a great name for themselves in the wealth creation space? Well, it has to do with their culture and practice. Outlined below are reasons for the Jewish growing momentous leaps in wealth creation.
Correlation between Judaism and Wealth
Jews subscribe to Judaism that does not advocate for poverty. Instead, Judaism requires individuals to be gainfully employed or in productive spaces that can promote self-reliance for one's own good as well as that of the society. This has over the decades led to productivity and a great work ethic among the Jews.
Further, Judaism fosters the act of giving, which has made Charity a revered and highly practiced act of service among the Jews. Giving to charity, better referred to as Tzedakah among the Jews, aims to do good to others by helping the needy, improving healthcare and growing religious institutions among other noble courses.
Jews believe that by giving unto others, more rewards await. Notable is a significant section of Jews commit to giving certain amounts that might seem unrealistic to Charity. According to them, the practice of making such commitments has pushed them to work hard and smarter and resulted to fulfilment of their charity pledges and more wealth creation.
Inability to Own Land in Europe
Historically, Jews could not own land in Europe, this pushed them to look for alternative ways of getting an income and building wealth. A significant section of the Jews would become merchants and has hence grown in the business world and built trust and authority across different industries.
Took Advantage of a Religious Opportunity
While Christians in middle ages believed that charging interest was a sin, Jews took over the space and offered credit on interest to people. The lending business saw Jews open the first banks. The banks would do business transactions, offer transfers, and continue lending. Resultantly, the Jews have over the years grown bigger and better in Finance.
Most educated religious group
According to Pew Research Centre, Jews have the highest average schooling time at 13.4 years. Christians come second at an average 9.3 years.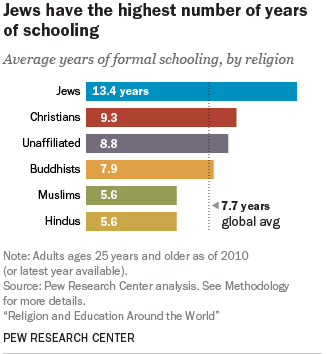 61% of adult Jews hold post-secondary degrees while Christians come second at 20%.
The high rate of education among Jews has translated into better credentials over their global peers. This has further given educated Jews an easy start in their careers with better compensation in the market place. It is noteworthy to say the effect of higher numbers of an educated people has compounded over the years and propelled the Jewish society as a whole.
Looking out for one another
Jews have a great sense of responsibility towards each other. They focus on uplifting the community and go on to invest in one another. It is clear to them that if a sister or brother does well, the society has been served better while assuring the same society of a more seamless progression.
Effective Wealth Management
Wealth management is an important discourse that at times tends to be overlooked. Heard of a wealthy family that saw its kin deplete what was left behind? The reason behind the wealth depletion could be irresponsibility or sheer lack of guidance or knowledge on wealth preservation. Jews are conscious of their finances and go to extents of training their children about money which builds a sense of financial discipline and literacy.
Cognitively, Jews are well diversified across different industries. This practice allows for effective capital allocation and risk reduction, which in the end effectively manages wealth.
Networking
As cliché as it may sound, your network is your net worth. People often do business with those that they know and trust. Recommendations whether in employment or business have a significant affinity to networks. Jews are greatly networked especially among themselves. They are close knit and build on themselves.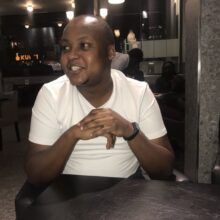 Fredrick Munyao
Financial Markets Analyst and Trader. Founder Value Galactica. Subscribe to US30 signals on our website, see the flyer on this page for details.
Related posts
A look into Coinbase, What you Should Know
Cryptocurrency exchange platforms have offered crypto enthusiasts and investors reliable avenues that continue to increase in their popularity and reach….
Dogecoin, a hyped market sentiment?
The Crypto world keeps presenting new twists and turns into the investment space. Bitcoin experienced its soar, so did Ether….
What is a Trader Checklist? Here are Five Things.
Trading is one lucrative skillset that has the ability to generate short term returns that can be effectively deployed elsewhere…